A helmeted Garda watching a competitor in The Cork Motor Derby 1938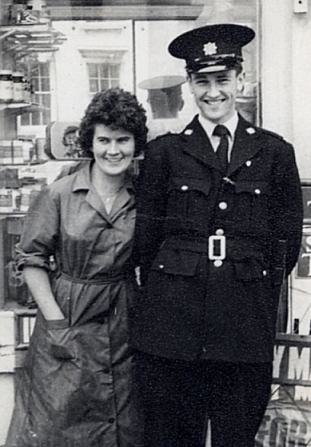 Eamon Howard at Parnell Bridge, Cork in 1961
The Garda Síoch&aacutena Historical Society is delighted to be have been invited by Councillor Mary Shields, Lord Mayor of Cork to contribute to the 2014 Heritage Festival.

As part of our campaign to digitize old police photographs, artefacts & documents before the identities and stories associated with the items are forgotten, The Garda Historical Society will hold a Police Memorabilia Event from 9am until 7pm on Friday October 3rd 2014 in the Millennium Hall at Cork City Hall.

Bring along your police photos and artifacts and tell us about your relative in the Royal Irish Constabulary, Dublin Metropolitan Police or An Garda Síoch&aacutena. We will scan and photograph the items and you can take it home with you.

A series of FREE lectures will also be provided on the day.