At midnight, on May 26, 1923, Guard James Mulroy was returning to station at Broadford, Co. Clare. Four miles from home he was held up by two armed men one with a shotgun and the other with a revolver. He was ordered to give up his uniform, notebook and other belongings, but he refused. He was then ordered to march along the road for a considerable distance. When he was later ordered up a laneway he refused saying that he preferred to die where he was. He was given 5 minutes. One of the assailants put his revolver against his chest and the other covered him with the shotgun. They counted the minutes and seconds.



Guard Mulroy waited for his opportunity sprang upon the man with the revolver, tackled him and held him but was shot and seriously wounded by the other man who fired his single barrelled shotgun who then proceeded to beat Guard Mulroy on the head with the shotgun. The struggle ended when the stock of the shotgun separated from the barrel and Guard Mulroy grabbed the barrel with one hand while still holding the other man with the loaded revolver with the other. Guard Mulroy disarmed the man with the revolver while the other ran off. He the told the remaining man to go home.

Guard Mulroy fell unconscious and later awoke to find himself in the ditch with the revolver in one hand and the barrel in the other. He returned to his station at 5 a.m. got his wounds dressed and then went out with another Guard and arrested one of the men.

For his bravery Guard Mulroy was awarded the first Walter Scott Medal at the Garda Síochána Depot, Phoenix Park, Dublin, on 18 August 1924.


Guard Mulroy being
congradulated by
Colonel Walter Scott
Guard James Mulroy
being held on the shoulders
of his comrades

James Mulroy who had served in the War of Independence, left the family farm at Coolrevane, Straide, Co. Mayo, to join the Garda Síochána on 19 May 1922. He was then 23 years of age. His promotion to Sergeant came on 18 June 1928, and he retired from the Force with an exemplary recond of service on August 16th, 1962.

Guard Mulroy later donated his Scott Medal to the Garda Síochána Museum, on the 15 June 1978 at a special cermony in the Garda Training Centre, Templemore, Co. Tipperary.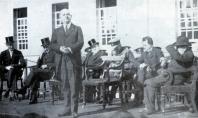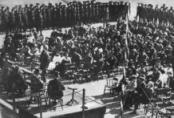 The first award cermony at the Garda Síochána Depot, Dublin