Cork's Mounties
---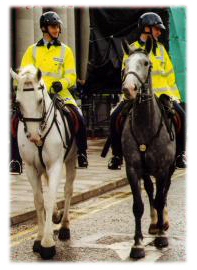 Until recently the Garda Síochána remained one of the few major police forces that did not have a mounted police troop. Six Irish hunters trained by the North Yorkshire Constabulary, now police the streets of Dublin City Centre. To read more about the newly formed Garda Mounted Unit, click on the following related articles;-
---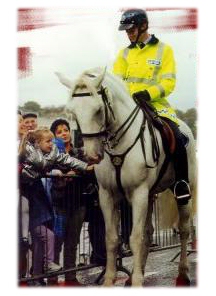 Previous Irish police forces such as the Dublin Horse Police, Dublin Metropolitan Police and Royal Irish Constabulary have used horses to great effect. The Royal Irish Constabulary mounted units were used on many occasions to escort Queen Victoria during her visit to Ireland. In 1897 Queen Victoria requested a RIC mounted troop join the Household Cavalry as her escort for her Diamond Jubilee celebrations. The Royal Irish Constabulary maintained a mounted troop in Cork City which was based at Union Quay with stabling to the rear of the police station.
Originally, candidates for the RIC's mounted section had to be intelligent, have a liking for horses, be less than 26 years of age, under 5'6" in height and not more than 11 stone in weight. By 1837 the regulations had changed to allow for taller, heavier men. Mounted police officers were subject to 108 separate sections of the RIC Code. They were encouraged to take a personal pride in their horses, something that would come easy to them since they openly regarded themselves as being "The Pride of the Constabulary". They were under the overall command of a Riding Master who was based in the Phoenix Park Depot in Dublin and who carried out regular inspections when men and horses were put through their paces.
Uniforms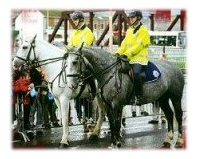 The uniforms worn by mounted police differed only slightly from those of regular police, mainly in areas of practicality and decoration. Mounted personnel wore white gloves, a shoulder belt with a pouch, jackboots and spurs. A cavalry sword was carried in accordance with standing orders, mainly when prisoners or ammunition were being escorted, or when engaged on ceremonial duties.
A forage cap was normally worn but was replaced by a helmet in very wet weather or when it was deemed prudent because of the nature of duty. A revolver and long baton were standard issue but were never carried on ceremonial duties.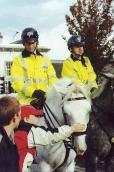 Cork's mounted police was disbanded in 1913. With the Great War looming the British War Ministry engaged in the mass purchase of horses with the result that the cost of horses and feed went through the roof. Maintaining a troop of mounted police was then no longer cost-effective and, furthermore the "horse-less carriage" or motor vehicle was at that time starting to come into vogue.
At the time of its disbandment the troop was under the command of Head Constable Thomas Watchorn who had specially applied for the post some years earlier and who had a great love of horses. On disbandment, he was offered another position within the R.I.C. but declined it and took early retirement, believing that the end of an era had come. How right he was!
---
This article has been reproduce here by kind permission of Garda Leslie Rice (the author) and Brendan Colvert of the International Police Association - Irish Section and editor of the "Garda Journal". This article was published in the September 1995 "Garda Journal" magazine (The journal of the International Police Association - Irish Section), pages 119-121.
---
Cleveland Mounted Police Unit
The Oldest Mounted Police Unit in the USA - Over 100 years Old!
Now scheduled for elimination as part of cutbacks proposed by the City of Cleveland
Click here for further information on how to contact
Cleveland Mounted Police Charitable Trust and help fund
The Cleveland Mounted Police Horses