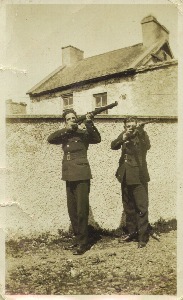 A photograph of Sergeant Woods (on right with double barrel shotgun) and Guard Spillane (on left with Lee Enfield 303 rifle) taken shortly before the attack on the Scartaglin Station. Photograph courtesy of Guard Spillane's family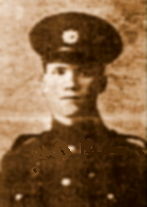 At about 8:30 p.m. on Monday, December 3rd, 1923, 6 armed and masked men entered the Civic Guard Station in Scartaglin, County Kerry. Guard Patrick Spillane who was in the kitchen was ordered up stairs with his hands up and told to strip off his uniform. He refused and was told that he would be shot. He replied that he was not afraid to die in defence of his uniform. He was then set upon and forcibly stripped.
Sergeant James Woods was located and also ordered up stairs with his hands up. When he got to the second step he was hit between the shoulders with the barrell of a rifle which discharged a bullet shooting him in the head. He died instantly. The raiders ran off with uniforms and money belonging to the Civic Guards.
Sergeant Woods from Lisdoonvarna, County Clare, was aged 22 years and unmarried. Two of his five brothers were also members of the Civic Guard. He had a brother who was the Superintendent in Tullamore, County Offaly and another brother who was a Sergeant in Cliftden, County Galway.