Major General
Sir Henry Hugh Tudor
(1870-1965)
K.C.B., C.B., C.M.G.

The son of a sub-dean of Exeter Cathedral, Henry Hugh Tudor was born at Newton Abbey, Devonshire, England in 1870. On 25 July 1893, he attained the rank of lieutenant in the Royal Artillery. When the Anglo-Boer War started in 1899 he was serving with M Battery Royal Field Artillery at Woolwich . According to the 'Army List' for April 1902 he was involved in the advance on Kimberley and was wounded at Magersfontein. While recovering in hospital, he received a message in December 1899 from Winston Spencer Churchill (who was then a war correspondent) wishing him a quick recovery and "all the luck of war". Churchill later sent him autographed first edition copies of each book written that he wrote. Tudor spent the remainder of the War serving on the Staff and by the end of the War he had reached the rank of Captain.
During World War I, he served in both Egypt and India, but it was as commanding officer of the 9th Scottish Division in France that he became renowned as a fine military leader. Tudor claimed to be the one who developed the creeping barrage and the box barrage to isolate fields of battle. The Box barrage was smoke and heavy artillery bombardment on both sides and in front so the attacking area was isolated, preventing enfilade fire and bringing up reinforcements. The creeping and box barrages were used in the later stages of the war. He also became renowned by the British War Office for his use of smoke screens in cloak his troop movements, and in the process save the lives of thousands of his men. In March 1917 there were massive Allied retreats throughout the western front, but Tudor's men stood fast causing Churchill to comment that "Tudor was like an iron peg in the frozen ground". Further details of his distinguished WW1 service can be found in S. Gillon's "The K.O.S.B. in the Great War" (London 1930), under Tudor, Major-Gen. H. H. To read more about World War 1, see Tom Morgan's Hellfire Corner Great War Pages.
Following the executions of the leaders of the 1916 Easter Rising and the 1918 threat of conscription there was widespread civil unrest and resistance (both armed and passive) to British rule in Ireland. The Sinn Féin MP's refused to go to Westminster and set up their own government called "Dáil Éireann". The Irish Volunteers were waging an intensive guerrilla war against the British establishment which many claim was sparked off by the ambush of two RIC officers at Soloheadbeg, Co. Tipperary, on 21 January 1919.
The Royal Irish Constabulary which had earned the title of "Royal" from Queen Victoria for their part in quashing the Fenian Rising of 1867 were unable to contain the latest insurrection. Policemen (many of whom were Irish born Catholics) were being killed and injured either in their barracks or while on patrol. Richard Bennett in his book "The Black and Tans" (London) 1959, p. 47, states that by the end of May 1920, 351 evacuated barracks were destroyed, 105 damaged, 15 occupied barracks were destroyed and 25 damaged, 19 Coastguard stations and lighthouses were raided for explosives and signalling equipment, 66 policemen and 5 soldiers were killed with 79 policemen and 2 soldiers wounded. DeValera and other members of the Sinn Féin government urged the shunning of the RIC and their families by their neighbours and friends and that the RIC should be treated as agents of a foreign power. As a result of the violence and shunning there was widespread resignations from the RIC.
MR BONAR LAW INSPECTS RIC ( R.I.C. )
British Prime Minister Lloyd George, accompanied
by Sir Hamar Greenwood and Mr. Bonar Law,
inspecting R.I.C. and Auxiliaries in London
Lloyd George's Westminster Government created a temporary police force to supplement and assist the RIC in their duties in the alarming situation which was developing in Ireland. The members of the new force were appointed as Temporary Constables. The Temporary Constables were recruited from England, Scotland and Wales, with possibly a third of the new recruits from Ireland. They were rank and file World War One veterans, who were then unemployed. The Temporary Constables were employed on a contract basis of between £3 10s to £4 15s a week and arrived in Ireland in March 1920.
The Temporary Constables, whose duty was to hunt the IRA wore a dark bottle green and khaki uniform, got their nicknamed from the famous "Black and Tans" pack of hounds near Upperchurch in County Tipperary. It was due to a shortage of the dark bottle green RIC uniforms that the Temporary Constables were kited out in a uniform, which was half black (the dark bottle green police) and half khaki (army).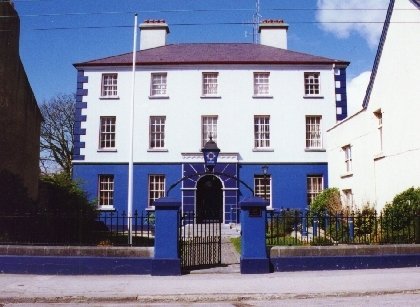 Listowel Garda Station formerly Listowel RIC Barracks

In May 1920, Lloyd George's Westminster Government appointed him as police advisor to the Viceroy. Later in November 1920, T.J. Smith retired as Inspector General of RIC and was replaced by Tudor who also took the title of Chief of Police, commanding both the Royal Irish Constabulary (RIC) and the Dublin Metropolitan Police (DMP).

Between 1 May 1920 and 31 July 1920 there had been over 500 resignations from the RIC. It is claimed that the resignations increased after the Listowel Police Mutiny of 17 June 1920 (at which Tudor was present), when the police stationed in Listowel RIC Barrack's (now Listowel Garda Station) refused to hand over their barracks to the army. The Republicans created their own Republican Arbitration Courts and Criminal Courts with their own Republican Police to patrol the country and bring offenders to their courts. Three offenders who had been banished by a Republican Land Court to an Island off the west coast for 3 weeks refused to be rescued by the RIC saying that they were loyal citizens of the Irish Republic. In June 1920, the Irish Bulletin claimed that the Republican Police had arrested 84 criminals in 24 counties within 13 days.
EARLDOM FOR LORD
Pathé Newsreel showing the retiring Viceroy Lord French
making a farewell inspection of RIC and Auxiliaries at
the Depot. Henry Hugh Tudor is in his entourage.
The British Government were becoming more alarmed and a second temporary police force was created on 27 July 1920. This time the recruits were unemployed W.W.I veterans who had been officers during the war (however, two members of the new force who had not been officers during W.W.I managed to join this new force). They were given the rank of Temporary Cadets. The Cadets who could wear either the RIC uniform or army officers uniforms with dark Glengarry caps, were also employed on a contract basis but were paid £1 a day for their services. They became known as "The Auxiliaries" or "The Auxies" because they were sent as reinforcements to the RIC and Temporary Constables. Together these new forces became known as "Tudor's Toughs" after their commanding officer.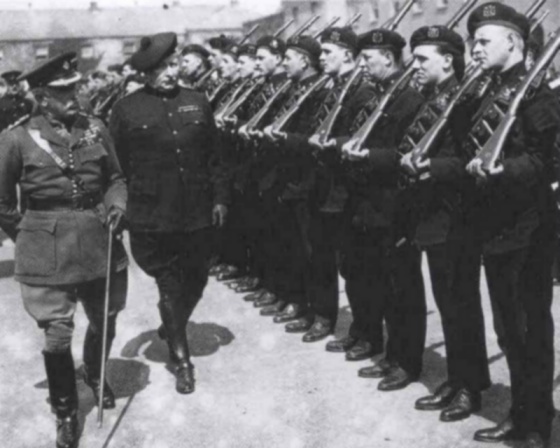 Lord French reviews a Parade of Auxiliaries at the Depot
Tudor was also present, see the above newsreel.
Many of these new cadets had distinguished themselves on the battlefields of "The Great War". Two of the new Cadets, George Onions and James Leach, had been awarded had been awarded the Victoria Cross for their heroic actions during W.W.I. However, the new forces were trained as soldiers and unlike the Royal Irish Constabulary were not trained as police officers. Like the German soldiers of WW1 who invaded Belgium they were not trained in guerrilla warfare. Every civilian was a potential sniper and reprisals were widespread. The IRA's Flying Columns were active in nearly every part of the country. Perhaps it was the frustration that they encountered in trying to capture and fight the hidden enemy that they ended up as looters, arsonists and murderers. Both sides engaged in bloody reprisals, the most notable was perhaps "Bloody Sunday," 21 November, 1920. After 11 English intelligence agents were assassinated and the Black and Tans fired upon unarmed spectators and players who were playing Gaelic football in Croke Park, Dublin, resulting in 12 dead and 60 wounded.
WAR OF REPRISALS
Pathé Newsreel showing house and shops in
Trim smoldering after an Auxiliary reprisal raid
Many towns and villages were burned and looted by Tudor's men. Two famous incidents which later involved Tudor were occurred on 9th February 1921. On that date a contingent of Auxiliaries went on the rampage in a Unionist's spirit grocer shop in Trim, County Meath, (causing an estimated £325 damage), while in County Dublin near Drumcondra two young Irish prisoners were shot dead in a field by an auxiliary commander named King. General Crozier went to investigate the Trim incident and dismissed 21 auxiliary cadets and held 5 more to be tried for their part in the raid (two of whom later broke out and robbed a publican). He returned to investigate the Drumcondra shootings but later claimed, the evidence was rigged. His power to dismiss auxiliaries was taken away by Tudor in November 1920. 5 of the Trim cadets were later convicted and 19 reinstated. Crozier resigned on 25 February 1921 and the London press filled with accounts of Tudor's treatment of him and "Black and Tans" atrocities. In April 1921, 3 of the Drumcondra cadets were tried but the case was dismissed due to lack of evidence.
KEEPING THEIR HAND IN
Pathé Newsreel showing Auxiliaries at revolver practice.
Tudor threatened to sue one author for libel, for repeating Crozier's charges until he issued a public apology and had pages removed. Later, Mrs. Asquith, wife of the British Prime Minister later commented to Crozier;- "They tell me that you are as much a murderer as any of them, only you like things done in an orderly manner, and at Trim they were disorderly."
The IRA believed that Tudor was fully behind the atrocities carried out by the "Black and Tans" and "the Auxiliaries" and set out to assassinate him. However, the IRA agents sent to shoot him mistakenly shot his Aide-de-Camp.
TIME TO REMEMBER
THE PLUNGE INTO PEACE (1920)
- reel 4
Pathé Newsreel showing Ireland in 1920
Peace eventually came with the Truce of July 1921 and Tudors Royal Irish Constabulary was disbanded following the Anglo-Irish Treaty in 1922 and a new police force "The Civic Guard" (later renamed the "Garda Síochána") was created by the Irish Government. Many of the barracks once occupied by the RIC were handed over to the new police force. Dublin Castle was formerly handed over on August 17, 1922 when Commissioner Michael Staines led his new police force through the castle gates. The Dublin Metropolitan Police (the last of Tudor's police forces) was finally amalgamated into the Garda Síochána in 1925.
NEW HISTORY IS BEING MADE
Pathé Newsreel showing the Republican Army
taking over Beggar's Bush Barracks the former
Headquarters of the Auxiliaries.
However, the friction between the RIC and the Irish insurgents did not end there. Many members of the RIC joined the new force and some ended up as instructors to the new recruits and many of these new recruits were former insurgents. There was so much animosity towards the RIC that a group of recruits mutinied against their instructors, in what has become known as the Kildare mutiny.
In 1922, Tudor like many other British veterans of the Anglo-Irish War went to Palestine, where he was appointed General Officer Commanding and Inspector General of Police and Prisons. Three years later at the age of 55, Tudor, who had been the youngest Major General to ever attain that rank in the British Army, retired. He emigrated to Newfoundland and began working for Ryan & Company, a fish merchant in Bonavista. He later moved to St. John's and worked for George M. Barr's fishing industry and resided with Barr's family.
His Irish service was not forgotten. In 1938, Tudor was invited to a royal reception was held in honour of King George VI's visit to Newfoundland. According to Paul O'Neill in his book "The Oldest City" (St. John's, Newfoundland), Tudor attended hoping that his Irish service would be unknown to the monarch, but when his name was announced, the King looked up and said in a loud voice, "Are you the man who commanded in Ireland?".
He grew to love his adopted homeland and her people and became renowned for his equestrian skill. Illness and failing sight forced him to live his final years as a recluse. Tudor's wife remained in London and was in Newfoundland only briefly. So he remained in his self-imposed exile without his wife, two daughters and son, until his death in the Veterans Pavilion of the General Hospital, St. John's on September 25th, 1965, at the age of 95.
He was given a full military funeral with the Royal Newfoundland Regiment (which was a component of the 9th Scottish Division that he commanded during WW1) acting as his pall-bearers. His wife, two daughters and son, did not attend the funeral, but instead were represented at the funeral by J.D. O'Driscoll, one of his friends and former army colleagues.
Newfoundland the home of so many Irish emigrants had many other connections with the RIC besides Tudor. The first Head Constable or Inspector of the Newfoundland Constabulary which was formed when the British Forces withdrew in 1870, was James Foley, a 22 year veteran of the RIC. He was replaced by Paul Carty a 24 year veteran of the RIC when he died in 1873. At a later stage another ex-RIC officer named J.R. McCowen took up the position. The Newfoundland Constabulary uniform was a copy of the RIC with minor alterations and surplus uniforms after the disbandment of the RIC were used by the Newfoundland Constabulary. Some of Tudor's papers have been deposited at the Royal Armoured Corps Museum, Bovington, Dorset BH20 6JG, England, and at the Royal Artillery Institution, Old Military Academy, Red Lion Lane, London SE18 4DN, England.
---
Bibliography
Evening Telegraph, Newfoundland, September 27, 1965.
The Daily News, St. John's, Newfoundland, September 28, 1965.
The Atlantic Advocate, Newfoundland, November 1965.
The Fog of War - H.H. Tudor, published by Tudor himself in mimeograph form.
The Black and Tans - Richard Bennett, © 1959, E Hulton & Co. Ltd., London.
Robert Kee "The Green Flag - A History of Irish Nationalism" (London) 1972
My fight for Irish Freedom - Dan Breen 1928, © 1981 Anvil Books Dublin.
The Green Flag - A history of Irish Nationalism - Robert Kee © 1972, Weidenfeld and Nicolson, London.
The Memoirs of Constable Jeremiah Mee, RIC - Father John Anthony Gaughan © 1975, Anvil Books, Dublin.
The Oldest City - Paul O'Neill ©, St. John's, Newfoundland.
The Garda Síochána Museum/Archives
Special thanks to James J. Lynch of the Royal Newfoundland Constabulary Veterans Association Dr. David Parsons also in Newfoundland; Andrew Bamji and Julian Putkowski of the WW1-L discussion list, Simon Fowler, the Publicity and Exhibitions Officer of the Public Records Office in Kew, England; John Duffy and Jim Herlihy of the Garda Síochána Historical Society.
---
CMG - Companion of the Order of St Michael & St. George (awarded in 1916)

CB - Companion of the Bath

KCB - Knight Commander Order of the Bath (awarded in 1923)
---
Created on August 14th, 1997.