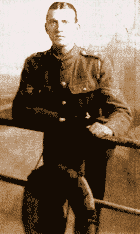 P.J. Kerrigan had a very colourful career, serving in the British Army and three Irish Police Forces. In 1913 he joined the Royal Irish Constabulary (RIC) and resigned a year later to enlist with the Irish Guards. On 21 February 1922 he became the first man to join the Civic Guard (later renamed the Garda Síochána). In August 1922 he was dismissed from the force, but his police career did not end there for two years later he joined the Dublin Metropolitan Police (DMP) and became a clarinet player in the DMP band. The DMP were amalgamated into the Garda Síochána in 1925 and in February 1926 he resigned from the force, emigrated to England and later emigrated to the United States, where he died in 1946. The following is his life story as written by Garda Jim Herlihy, Assistant Secretary of the Garda Síochána Historical Society. The article is reproduced here by kind permission of Irish Roots Magazine in which it first appeared in the 1997 Number 1 issue.

---
In early September 1995, I mentioned the matter of researching the early history of the Garda Síochána to Garda Dermot Carey of Gurranabraher Garda Station, Cork. He remembered meeting a man, living locally, who claimed to be related to the first Civic Guard. Shortly afterwards I traced the man, James Francis Kerrigan, who turned out to be the son of the first Guard. He showed me a photograph of his father in Irish Guard's uniform.

I asked him when his father had died and where had he been buried. He did not know. The last he knew was when his father left home in 1926 and vanished without trace. He said he would die happy if he could ever find out where his father ended up.

FAMILY BACKGROUND
P.J. Kerrigan was born on 12 September 1892 in Fair Green, Westport, County Mayo, the son of Patrick and Mary Ellen Kerrigan. Patrick had worked as a postman in Westport for forty-four years and retired in 1920. He died on 13 June 1947, aged 79 years and Mary Ellen died sixteen days later aged 85 years. They are buried in Aughagower Cemetery, County Mayo. P.J. Kerrigan had three brothers, Michael, Frank and Thomas who emigrated to the United States and settled in New York. His two sisters also emigrated tot the US. Two of his brothers worked with the New York Police Department and were allegedly killed on duty. One was knocked down by a tram and the other was killed in an explosion while carrying out a search for illicit distillation in a warehouse, when a lamp he was carrying ignited the illicit spirits.

In 1913, shortly before his twenty first birthday, P.J. Kerrigan attempted to enlist in the Royal Irish Constabulary. He was five feet eight and a quarter inches in height and was recommended by District Inspector Thomas Neylon. His trade or calling at the time of application is given as a sawyer. O'Malley's Saw Mills was only six doors away from his home in the Fair Green where Carabeg river enters the Mall in Westport. Though he was declared medically unfit by the Surgeon, two days later he was accepted into the force.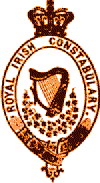 On 7 March, 1914, having completed his recruitment training at the RIC Depot in the Phoenix Park, he was allocated to County Meath. After a period of eight months he resigned voluntarily to take up a position in the army. He joined the Irish Guards and he was promoted to the rank of Corporal. He is believed to have worked as a physical training instructor. The only photograph that exists of him was taken in 1918 in his Irish Guard's Uniform (above).

P.J. married Molly Finnegan from South Quay, Drogheda, County Louth whose father, Patrick Finnegan was at one time a ship's captain owning his own schooner and later a coal importer. P.J. and Molly had four children, two boys and two girls. Their eldest, John Patrick was born on 9 October 1918. A daughter Eileen was born on 30 July 1920, a son James Francis was born on 15 July 1921 and their youngest son daughter, Doreen was born in 1922.

P.J. was the first of four Civic Guards to enlist on the first day of recruitment on 21 February 1922 at the Royal Dublin Society (RDS) Showgrounds. He was assigned Garda Registered Number 1. Five weeks later he was promoted to the rank of Sergeant. Patrick McAvinia, aged 27 and from County Cavan was allocated Garda Registered Number 2 and Garda James Charles Clarke, aged 35 and from County Westmeath was allocated Garda Registered Number 3. All three had served with the Royal Irish Constabulary.

On 7 August, 1922, P.J. Kerrigan's Civic Guard career came to an abrupt end for allegedly striking a prisoner named O'Brien, alias Thomas Lynch, at Portobello Barracks, Dublin. P.J.'s defence was that he had been called a 'Black and Tan' by the prisoner who went on to say that Michael Collins and Major Ennis 'had sold out the country'. He appealed the decision directly to the Commissioner, Michael Staines, but his application was unsuccessful.

The time of P.J. Kerrigan's dismissal in August, 1922 was one of the most troubled periods in the history of the Civic Guards. The Force had endured a mutinous period in Kildare Barracks due to the objection of some of its members to the promotion to its senior ranks of ex-members of the RIC.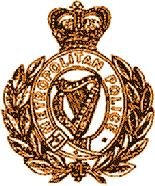 This was not the end of P.J.'s policing career. On 30 September 1924 he joined the Dublin Metropolitan Police (DMP) at its Kevin Street headquarters, recommended by Major General Ennis. He gave his previous employment as clerk and was allocated DMP service number 12521. He served with the DMP band and played clarinet. He resigned voluntarily from the force on 20 February 1926.

P.J. emigrated to Liverpool, England where he lived with a family by the name of Shepherd and then went to the US.

P.J.'s Irish Family
At home his wife Molly ran a grocery shop in High Street, Dublin. In 1929 tragedy struck the family when the youngest girl, Doreen died of peritonitis resulting from a burst appendix. Her death at an early age had a profound effect on her two brothers and no doubt contributed to the untimely death of Molly in her fifty-second year in 1939.

John Patrick, P.J.'s eldest son, emigrated to the United States in 1957 and settled at 3014, Huff Road, San Jose, California where he died in 1988. James Francis, P.J.'s younger son, after a variety of jobs in Ireland, married in 1950 and emigrated to England. From there he went to Rhodesia where he became a citizen on 7 April 1978. He was a member of the British South African Police for a period of ten years and was very successful in business. He is retired in Cork at the age of 75. James Francis's wife, born in Lurgan, County Armagh, has a connection with the police also: her father served with the Glasgow Police.

P.J.'s daughter Eileen lived in Ireland. One day in July 1979, she had a visit from a couple from the USA. The stranger introduced himself as Michael Kerrigan, born in the USA in May 1935. His father, he said was P.J. Kerrigan. He was another son of the first Guard and, therefore, Eileen's half-brother.

Eileen died in 1995 and all that remained of that brief family reunion was a photograph of Eileen, her half-brother Michael and their spouses. James Francis, Eileen's younger brother, now possesses that family reunion photograph. However he had no contact address and no further information on his father's US family. Up to September 1995, when I met him in Cork, he had never had contact with any of his US step-brothers and he was more than anxious to have his own family reunion to learn more about their mutual father.

P.J.'s U.S. Family
The day after meeting James Francis Kerrigan in September of last year, I searched the 70,000,000 Households Phone Book on CD-ROM on my computer and found a telephone number for a Thomas Kerrigan, Rosemary Circle, Albany, New York. I thought it was worth a phone call so I gave the number to James Francis, who dialled it that very day. He found himself talking to his firs Cousin. Thomas Kerrigan in Albany was the son of P.J. Kerrigan's brother Thomas. He found out from this cousin that his father, P.J., had died in St. Peter's Hospital on 15 March 1946 and was buried in St. Agnes' Cemetery, Albany, New York. He was not able to help with the whereabouts of Michael Kerrigan, the first Guard's US-born son.

Michael Kerrigan's last known address, was in the San Jose/Santa Cruz area of California where he had lived in the 1970s. James Francis, by coincidence had a daughter, Yvonne, residing in Los Altos, California, so when he wrote to Michael Kerrigan at his old address, he enclosed the name, address and telephone number of his daughter. The letter had the correct postcode but the incorrect address. However, a postman who had a Michael Kerrigan on his route thought it was worth a shot so he delivered it. The letter reached its destination. Michael Kerrigan rang Yvonne at 7 am.

---
Copyright © Jim Herlihy 1997 - first published in
Irish Roots Magazine (Belgrave Publications)