ECHOES FROM THE PAST
THE PHOENIX PARK TRAINING DEPOT

Garda Jim Herlihy

INTRODUCTION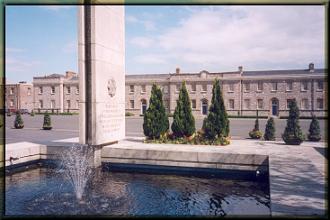 As the year 2002 comes to a close the Garda Síochána will have been associated with the Phoenix Park Depot as a police training centre and as its headquarters for four score years. Similarly, the Garda Síochána's predecessor Force, the Irish Constabulary, formed in 1836 and to which the prefix Royal for suppressing the Fenian Rising in 1867, Royal Irish Constabulary (RIC) was granted also spent eighty years there. The inheritance of such a purpose-built perfect venue built in 1842 for recruiting and training was a chief factor in the successful establishment of the Garda Síochána in troubled times. In many ways the Garda Síochána stepped into the traditions of the RIC, however, it owes its rank structure and being an unarmed Force primarily to the Dublin Metropolitan Police (DMP) which in April 1925 became the Dublin Metropolitan Division (DMD) of the Garda Síochána. Looking across the Depot square one can't help but think what sounds and echoes one could have heard in particular in its formulative years and what changes these sounds made to the Phoenix Park, of which if forms an integral part.


DRILL – THE SOUND OF THE DRUM

There was a time when men were taught the science of drill at the Depot and marched past "with heads erect but not thrown back" without any musical accompaniment. The uniform of the Irish Constabulary was a rifle green colour based in both colour and pattern on the Rifle Brigade. The first Depot drill instructor was Thomas Fleming, born in 1800 in London. He ran away from home at the age of 15 and joined the 3rd Battalion of the Rifle Brigade giving his age as 17. Promoted to colour sergeant, he joined the Irish Constabulary as a sub constable and drill instructor in 1838 and was appointed the first Head Constable Major of the Depot in November, 1842, 3rd Class Sub Inspector on 1 June 1848 and the first Adjutant of the Phoenix Park Depot. He was pensioned in 1859 and died in Kildare on 25 July 1860 and he is buried in Mount Jerome Cemetery, Dublin (Plot C138-1608) with his daughter, Emily, (b.27/1/1840-d.18/6/1852) and Mary, (d.31/7/1861) his eldest daughter. He was the father of Sub Inspector Thomas Sylvanus Fleming and grandfather of County Inspector Major Cyril Francis Fleming who was responsible for recruiting the 'Black and Tans' and the Auxiliary Division of the RIC in London in 1920.

In a decade Thomas Fleming had made his mark in organising the first cadet officer training police depot for the British Empire as observed by a visitor in 1852: "This establishment, romantically situated in a retired portion of the Phoenix Park, is composed of barrack-looking buildings forming three sides of a rectangular gritty parade ground. The long north front, which has a clock in the middle contains officers' quarters and mess-room, sleeping rooms for the infantry and the Commandant's quarters; on the east, or right, a short wing for infantry and the Commandant's office; on the west, or left, similar accommodation, with stabling beneath for the cavalry. The whole is surrounded on the south by a ditch, terminating at each end by a rustic cottage guard-house. I found the whole of its dark green force marching in companies on the Parade; and as, by order of the Commandant, they wheeled into line. I saw at a glance before me a well organised body of regular troops. The full dress of the men is a black shako, dark green soldier's jacket, dark green trousers and gloves. Their arms are a short carbine with a spring bayonet."

The Depot square saw many a happy RIC Cadet, with his shell jacket and skin-tight overalls, as he peered into the possibilities of the future with a far off eye on the inspector-generalship, as well as to the new recruit, with well-creased trousers and brand new cane, already hankering after a long sword. In those melancholy days, men marched solemnly and seriously and very likely sometimes sadly, to nothing more stirring than the measured beat of a drum. There is a Depot legend to the effect that, in those far-off times (when the drum, the plummet and the pace stick were the only musical instruments that enlivened the Depot Square), a noble Earl, some say a Duke, presented a drum of huge dimensions and alarming capabilities in order to improve the marching, but that it had to be quietly returned in the Store Accounts as unserviceable owing to its maddening influence on the occupants of the nearby Zoological Gardens. In this twenty-first century we can hardly repress a smile as we picture to ourselves the Garda Síochána's stalwart predecessors, with their pocketless breeches and Dundreary whiskers, marching North, South, East and West to the sound of 'his Grace's own particular drum': but as time wore on, old things gave place to new, and the RIC Band came into existence.


"Timotheus on his breathing flute And sounding lyre,
Could swell the soul to rage, or kindle soft desire."
- Dryden.

THE BAND – THE SOUND OF MUSIC

The RIC Band was established in the year, 1861, when Sir Henry John Brownrigg, CB was Inspector-General and while Lieut.-Col. George E. Hillier, CB was the Depot Commandant. Government sanction was applied for and granted "without expense to the public," but this financial restriction was readily overcome by the officers and men of the day, who subscribed most generously to meet the expense of providing new instruments. Grants were obtained and the band came into existence with a solvent fund at its back. The Government, in authorising its formation, stipulated that is numbers should not exceed forty five, but this figure was never reached. At first only 26 musicians were enrolled under the first Bandmaster, Mr. Harry Hardy. A few of the first soloists were drawn form military bands, and the practice to some extent had been found to be inevitable throughout the band's history. The original members under their distinguished leader worked like Trojans and in a very short time the band took its stand near the guardroom. Its first appearance on the Depot square was a gala day at the Depot: we read that the elite of Dublin assembled for the occasion and that the performances were received with a hurricane of applause. From that moment the band never looked back and Mr. Hardy and his merry men progressed from stage to stage until February, 1863, when the band made its debut in the outer world. The occasion was a banquet given by the then Lord Mayor of Dublin, when the RIC Band was requested to provide the music. The result fully justified the choice. The Metropolitan Press teemed with complimentary notices and from then on, few large social gatherings took place in Dublin without its presence. Depot recruits passed out swinging past to the inspiring music of the "Young May Moon" which became the signature tune of the RIC.


THE MASCOT – THE SOUND OF ANIMALS

At one time in the band's history, a strange uncanny feeling, something foreshadowing evil, took possession of the members and for a period the band lost its characteristic verve. The Bandmaster, finding that something was wanting, declared that the band should have a mascot and, immediately, the old buoyancy returned. Then there began experiments. At first a cat was trained, but he deserted in the night: a terrier succeeded, but he was not sufficiently attractive and was discharged: then a pet fox was procured, but he came to an untimely end as he was endeavouring to rob a hen roost near the People's Gardens. At last the real mascot turned up. Sergeant Bartley had secured a fawn in the Phoenix Park and the little, sleek, handsome creature, as if by intuition, attached itself to the band, to which it became passionately devoted. It was a docile, harmless pet in its early days, wore a collar and bells, lay in the centre of the bandsmen at their performances and on the marches walked proudly in front with an air of possession. Phoenix (for that was the deer's name) was much beloved. He was feted by the officers, patted by the Commandant and adored by the ladies. But Alas! It was the old story over again, for too many cooks spoil the broth. Before long he developed such devices as swiftly doomed him. He first gave overt evidence of this inherent viciousness by nibbling at haversacks, eating up disciplinary files and destroying Depot passes. Pardoned for these pranks, in the next stage he took to the Phoenix Park, upset children, upturned perambulators, butted nurses and rammed every mortal unprotected by some musical instrument. Complaints followed and imprisonment was the result, but solitary confinement only increased his fury. He broke bounds and in a fit of unparalleled ferocity levelled everything he met wearing skirts. For this he was tried at an orderly room and sentenced to banishment. He was taken to the Furry Glen at night, blindfolded and tied to a tree, but arrangements were made with a friendly park-keeper to release him early next day, so that he might rejoin his own tribe. Gloom pervaded the band quarters that night, but it was of short duration, for before the last echoes of the "Rouse" had died away, next morning Phoenix was standing at the front gate, as if he had just returned off an all night pass. Attempts were made to drive him away – it is said they were feeble efforts – but as the wicket opened, Phoenix bounded through, wheeled sharply towards number one, circled right on the square at the Adjutant's quarters just in time to play havoc with an irregular company of cooks, who were deploying to sundry kitchens to prepare the morning coffee. He rushed to one particular heavy member of the squad and down she went disabled. For this the death sentence was pronounced and he was sadly and swiftly despatched. With "Phoenix" perished the only mascot worthy of the name the band had ever had, but his influence remained for never since had the band suffered misfortune.


RIFLES & REVOLVERS – THE SOUND OF GUNFIRE

The RIC were a gendarmerie, or armed police force as distinct from the Dublin Metropolitan Police which were unarmed. In February 1862, the Lords Commissioners of the Treasury approved of extra pay being granted to one district inspector and six officers instructors of musketry for teaching the Force in the use of rifles. One result of the general introduction of the rifle was the establishment in various countries of specialised schools of instruction to teach its proper use. In the days of the smoothbore, individual accuracy under battle conditions had hardly been possible and the instruction of the policeman in volley firing had been largely a matter of the drill-sergeant. The RIC Musketry instructors were trained in Hythe on the Kent coast where a school of musketry was formed in 1853. Suitable barracks existed there and miles of shingle beaches provided ample space for ranges without taking over agricultural land.

In October 1854, the Mounted Staff Corps destined for special service in the Crimea, was inspected on the parade-ground in St. James's Park; and in the afternoon nearly 100 men – the greater part of the corps – embarked at Hungerford Pier, on their way to Woolwich, whence they were to sail on Wednesday for Gibraltar, in a vessel called the Joseph Shepherd. The Mounted Staff Corps consisted of 50 men selected for their intelligence and good conduct from the Irish Constabulary Force, and also 50 from the London Metropolitan Police. They all appeared to be men in the very prime of life, above the average height. Their appearance was novel and picturesque. The uniform was a handsome scarlet Hungarian tunic, the front sleeves and collar richly braided, Royal Blue facings (the officers' tunics richly and tastefully laced); blue trousers with two scarlet stripes, and leather strappings and cuffings; handsome helmet, mounted with brass; a poncho of grey cloth, made to answer as a blanket and great-coat; a sling belt, with cavalry sword; pouch belt, with pouch for Colt's revolving pistol. The Colt revolver was manufactured in Samuel Colt's Repeating Manufactory, Besborough Place, Pimlico, London which was in business from 1 May 1852.

Four Irish Constabulary Sub Inspectors seconded for service with the Commisariat in the Crimea, lost their lives, namely William Peter Coppinger in 1853 and John Fitzgerald Studdert, George DuBourdieu and Thomas C. Anderson in 1854.

One famous Irish Constabulary officer of this period was Robert-O'Hara Burke, born 1821, St. Clerans, Co. Galway; educated at Woolwich Military Academy, served as a lieutenant in the Austrian Hussars in 1840 before being appointed a. 3rd Class Sub Inspector in the Irish Constabulary on 6 November 1849. He resigned on 20 November 1852 and emigrated to Australia in 1853. He became an acting inspector at Carlsruhe, in the Victoria Police; senior inspector, Beechworth, 1854-58; superintendent of police, Castlemaine district, 1858-60. He commanded the expedition organised by the Royal Society of Victoria and supported by the government fitted out to explore the centre of Australia which started from Melbourne on 20 August 1860; reached Cooper's Creek 11/11/1860; crossed the continent and reached the Gulf of Carpentaria on 10 February 1861 where he died of starvation on 28 June 1861. He was buried with a public funeral at Melbourne on 21 January 1863. A bronze statue was erected in Collins Street, Melbourne in 1864 at a cost of £4,000.

Another famous officer who passed through the Depot was Chartres Brew; born 31 December 1815, Corofin, Co. Clare; joined as a 3rd Class Sub Inspector, 3 March 1840, eldest son of Tompkins Brew (1783-1843), stipendiary magistrate and Jane Smith (d.1865). He was seconded to the Commissariat Department in the Crimea where was appointed Assistant Commissary-General on 1 February 1856. He resigned on 16 September 1856. While traveling out to British Columbia, he was a passenger on board the ship "Austria" from Southampton to New York. The ship burned at sea and he was one of the few survivors. As there was not enough room for him in the boat, he and another passenger took turns swimming with one hand on the stern. He served in Cahir, Co. Tipperary and Cork City before serving in the Crimea in 1854/'55. He trans-shipped from New York to the "Aspinwell", traversed the fever-ridden swamps of Panama, and found his way to the Colonies almost on schedule. He was sworn in as Chief Inspector of Police at Fort Langley, the first capital of what became a province, [of British Columbia] on a wet November 19, 1858. He founded the British Columbia Police in 1859, fourteen years RCMP was established, and amalgamated with the RCMP in 1950. He became a Gold Commissioner and County Court Judge. He died at Richfield, British Columbia on 31/5/1870 and he is buried in Barkerville, British Columbia where his epitaph reads:- "A man imperturbable in courage and temper, endowed with a great and varied administrative capacity, a most ready wit, a most pure integrity and a most human heart."

The outbreak of WW1 in 1914 saw several RIC Officers seconded for service, six of which lost their lives before the war ended. The 1916 Rising in Ashbourne, Co. Meath saw the deaths of County Inspector Alexander Gray and District Inspector Harry Smith. Between 1916 and 1922 a total of 549 members of the RIC lost their lives, including twenty five RIC Officers.


THE MOUNTED TROOP – THE SOUND OF HOOVES

A riding school was built in the Depot in 1845 and extended in 1865 for the Mounted Troop of the Force. John Mulcahy was the first appointed riding master on 15 June 1866. He was born in Co. Tipperary S.R. in 1828 He joined the RIC in January, 1858 as a sub constable, reg. No. 22742, having served with the 13th Light Dragoons in the Charge of the Light Brigade, in the Crimea. He was awarded the Crimean Medal and four Clasps for Alma, Balaklava, Inkerman, Sebastopol, the Turkish Medal and the Distinguished Conduct Medal. He was promoted 2nd Class Head Constable on 1 January 1858, 1st Class Head Constable on 1 August 1858 appointed a 3rd Class Sub Inspector on 15 June 1866 and Riding Master at the Reserve in the Phoenix Park Depot. He had one unfavourable record for being drunk on 18 October 1870. He died at the Depot on 10 June 1872, aged 44 years and he is buried in Glasnevin Cemetery, Dublin. (Grave No. XE 134 Garden). Three of his successors also died young:- James Douglas, appointed on 1 July 1872. He was born in Lancashire, England in 1838, ex Sergeant Major in the 18th Hussars from 17 April 1858 to 30 June1872. He died on 11 March 1873 aged 35 years; William Sweet, appointed on 1 May 1873. He was born in Kent, England in 1836, ex Regimental Sergeant Major in the 1st Royal Dragoons, in which he spent 18 years and 4 months. He died on 10 August 1875, aged 39 years. Buried in Arbour Hill Military Cemetery, Dublin; Albert Fry, appointed on 1 October 1875. He was born in Yorkshire, England in 1841, ex Troop Sergeant Major in the 5th Dragoon Guards, in which he spent 17 years and 6 months) His wife was from Co. Roscommon. He died on 28 July 1876, aged 35 years. The best remembered Riding Master was John Tyson, appointed on 24 August 1876. He was born in Chester, England in 1840, ex Regimental Sergeant Major in the 4th Dragoon Guards in which he spent 18 years and 8 months. He was granted the Queen's Jubilee Medal for taking part in Queen Victoria's Diamond Jubilee Procession in London on 29 June 1897. He retired on 15 June 1903 and died on 10 July 1916. Buried in Glasnevin Cemetery, Dublin (Grave XB61 South). The last Riding Master was Richard Edwin appointed on 1 September 1903. He was born in Dublin in 1854 and he was married in October 1886 (wife from Co. Dublin). He was an ex Major & Riding Master with the 7th Hussars & 14th Hussars for 22 years. He retired on 7 December 1917.


DISCIPLINE – THE SOUND OF SILENCE

Discipline was defined in section 26 of the sixth edition of the RIC Code, published in 1911 as follows:- "Every member is to receive the lawful command of his superior with deference and respect and to execute them with alacrity; and every superior in his turn, is to give his orders in temperate language, showing due regard for the feeling of those under his command. And in as much as it would be manifestly subversive of discipline were any member of the Force to be allowed to comment, either favourably, or otherwise, upon the orders or official conduct of his superior, such a practice is prohibited." In effect it meant for subordinates that "A shut mouth catches no flies." One constable set to rhyme, enumerating the many ways a policeman could find himself in breach of the strict disciplinary code with a poem entitled,:-


Blocked

'Tis a mystical word, yet a word manifest;
Its meaning appears just as plain as the rest,
It embraces all errors – both real and concoct-
For which a report simply means we are "blocked."

No matter how serious the fault,
From the crime of manslaughter to the sampling of "malt,"
Letting prisoners escape when up they've been locked,
Are all derelictions for which we are "blocked."

Should the officer come to parade, unexpected,
And a stain on our handcuffs by him is detected,
Vain all our excuses – the gentleman's shocked,
He puts us on paper – That means we are "blocked."

Each day, come what will, we have drilling and schooling,
For our sergeant's exact, he'll put up with no fooling,
And if we're not shaved, and our hair nicely docked,
He'll certainly spot it, and then we get "blocked."

On inspection each morning, we must appear neat,
With our brasses well burnished, our trappings complete,
Should we smile on parade, then authority's mocked,
As sure as he sees us so sure we are "blocked."

All orders and minutes we must have by rote;
The "manual" from cover to cover must quote;
And if in Reed's Guide we should ever get balked
We are told we are dense, if indeed we're not "blocked."

On a country patrol, or on tiresome town duty,
We must see that no burglars decamp with their booty,
Observe if the cows are with milk overstocked,
And in all other ways keep ourselves from being "blocked."

If the snow has been falling and there's ice on the streets,
Will all sorts of cases poor Robert will meet
If the frost has descended – ere the horses are calked –
He must see after this and not get himself "blocked."

To prevent or detect each offence of the law,
Is the lot of poor Robert – and that without flaw.
For if in his district some cattle are houghed,
Caught must be the culprit or someone gets "blocked."

Discipline is rigid and must be maintained,
To the Force it is right that it should be sustained,
At 10 every night barrack doors all are locked,
Then if you're out later prepare to be "blocked."

Recruiting is stopped and promotion is blocked,
And into cocked hats the D.C.'s have been knocked,
In the Haven of Rest will our ship soon be rocked,
When the Last Roll is called pray that none will be "blocked."

SOUND – ADVICE

Sir William Nott-Bower was born in York on 20 March 1849 and educated at Cheltenham School and the Royal Military Academy, Sandhurst. After his army service from 1869 to 1873 with 33rd and 8th Regiments of Foot and a captain in the 5th Battalion West Yorkshire Militia, he joined the Royal Irish Constabulary as a cadet officer in January 1873. He was appointed Chief Constable of Leeds City Police 1878-1881, Chief Constable of Liverpool City Police 1881-1902, Commissioner of Police of the City of London, 1902-1925. He retired on 29 September 1925, aged 76 years and his autobiography was published in 1926, aptly entitled Fifty-Two Years A Policeman. He was also awarded the KCVO, CVO, and the Kings Police Medal. He died on 4 February 1939.

He attributed his successful police career to the following piece of instruction conveyed to him at the Phoenix Park Depot by an old and disgruntled Sub Inspector.

Never neglect any routine duty.

Never take any responsibility which you can avoid.

Never attempt any job which is not strictly your own.

Then you will have a happy time in the police.

But if ever you try to do anything, you will surely be done.

CONCLUSION

Between 1816 and 1922 a total of 85,028 members of the Irish Constabulary, including some 1,700 officers policed Ireland – none of which are now living. All that remains is the Depot, its stories, both humorous and tragic, its reminiscences and echoes. The following poem was written in 1898 and signed 'Tom'. Even though the characters are not known to us it captures the mood and feeling of the Depot times that are no more.


The Deserted Depot

I've just been reading in the "accredited" Gazette
Of the changes at the Depot and dear knows it makes me fret;
The last recruit has left it, the reserve men nearly gone,
And the squad-rooms all but empty, bar the Band in No.1.
No cleaning now nor burnishing of carbines and swords;
Pasting packs and haversacks, creasing trousers on the boards
Rolling coats and folding capes, in valises placing kits
Complete from hob-nailed highlows to the pair of worsted mitts
And what a blend of dialect! From Donegal to Kerry,
From Cork, you see boy! and Limerick, and Northerns from Derry,
Good humour, wit and gaiety ne'er before were known to fade,
With every man stripped to the shirt, preparing for parade.

The square is now deserted where so often we "marked time,"
"Old Pro" no longer in the school, expatiates on crime;
Oh dear! The learned lectures that he gave in days gone by,
While we, his pupils slumbered, or winked the other eye;
And when he caught us napping how his eyebrows then would fall,
And he would say "Come down, my lad, stand there and face the wall."
For Joe and Mr. Slattery, I've got so much to say,
That I really must defer it for some other day.

Remember the old Major? How he raised such jolly roused,
A-roaring up and down the square about these awkward cows.
A good, kind-hearted man he was, and sound advice would give,
How he'd weep at our departure, and wish us long to live.
He bought us porter freely on the day that he was leaving.
And we cheered him to the echo, although our hearts were grieving.
The other "Drills" have gone, too, from the Depot far away,
And I am told that "Roger" superintends the beat in Bray.
Ben Taylor, with the flowing beard, was once the boss of all,
I hear he's making poteen in the County Donegal.

There were Tynan, Shier and Worrell and the brothers Masterson;
Where are they now located? How they used to make us run.
Then sweet pure "convalescent," with its mighty master "John,"
Where we shook off all our illnesses long ere they did come on.
That good old institution now is closed six months or more,
The grand "old blues and stockings" now are in the Depot Store;
The cry was all "low diet" inside "Convalescent" wall,
Though 'twas said that "John" was lenient to the boys from Donegal;
The cavalry and bandsmen were to him a holy dread,
He's give them tea in plenty, but, faith, mighty little bread.

No more the shouts of laughter ring in the erstwhile happy canteen,
Where the beverages were beautiful and the bacon fat and lean,
And if you were for picquet or patrol about the Park,
You could drop in and have a pint, but not before the dark;
And now the great strong guardroom with (once) six and twenty men
Is protected by a sergeant doing sentry with a pen
With which he marches to and fro and drives the loafers out.
Oh what a change – just contemplate – twelve months can bring about!

Reduction in our noble force with a vengeance goeth on,
In a district throughout the country we are less'ning one and one;
And yet the future is unknown, insurrections may arise,
Recruiting will again begin we safely may surprise;
Our numbers now are low enough – that's if duty must be done –
And 'tis ours to hold the laurels that right manfully we've won,
We'll keep out motto LOYALTY, though few our men may be,
And we hope out Depot soon again will be filled with RIC.

REFERENCES


Herlihy, Jim, The Royal Irish Constabulary - A Complete Alphabetical List of Officers and Men,1816-1922. Dublin, 2001.

Herlihy, Jim, The Royal Irish Constabulary - A Short History and Genealogical Guide. Dublin, 1997.

Reed, Sir Andrrew The Royal Irish Constabulary Code, sixth edition, Dublin, 1911

Glasnevin Cemetery Records, Dublin.

Home Office (HO.184 Series) RIC General Registers of Service, Public Records Office, Kew, Richmond, Surrey.

Mount Jerome Cemetery Records, Dublin.

The Constabulary Gazette, 1897-1922.

The Cork Examiner, 1861-1873.

The Irish Times, 1860-1900.

The Royal Irish Constabulary Magazine, 1911.